There are important templates that pertain to this article, click above for details....
This article is a stub and needs help, if you aren't sure what to add, please see Bach, creator of this world...
This character's fate is still being written, there is much more in store for them, you can keep track of their story here. As their story is revealed, feel free to help add the new information to this article.
Enchanted Halberd
Special Objects & Enchanted Items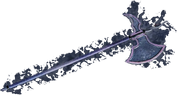 ---
General Info
| | |
| --- | --- |
| Name | Enchanted Halberd |
| Type of Object | Halberd, Weapon |
| Origin | 14th Century D.G. |
| Original Owner | Unknown Warrior |
| Current Owner | Ser Brockles |
---
Other Info
| | |
| --- | --- |
| Enchanted | Yes |
| Enchantment Type | Soul Enchantment |
| Current Location | With Ser Brockles |
This halberd was originally owned by a great warrior, sometime around the 14th Century D.G., and is currently enchanted with his soul. WIP.
Forged/Created
Edit
WIP
First Owner
Edit
WIP
Current Owner
Edit
WIP
Other Images
Edit
Out of Character
Edit
Object inspired by Onyx.
Ad blocker interference detected!
Wikia is a free-to-use site that makes money from advertising. We have a modified experience for viewers using ad blockers

Wikia is not accessible if you've made further modifications. Remove the custom ad blocker rule(s) and the page will load as expected.